SPEEDIO
S700X1 / S500X1 / S300X1
Features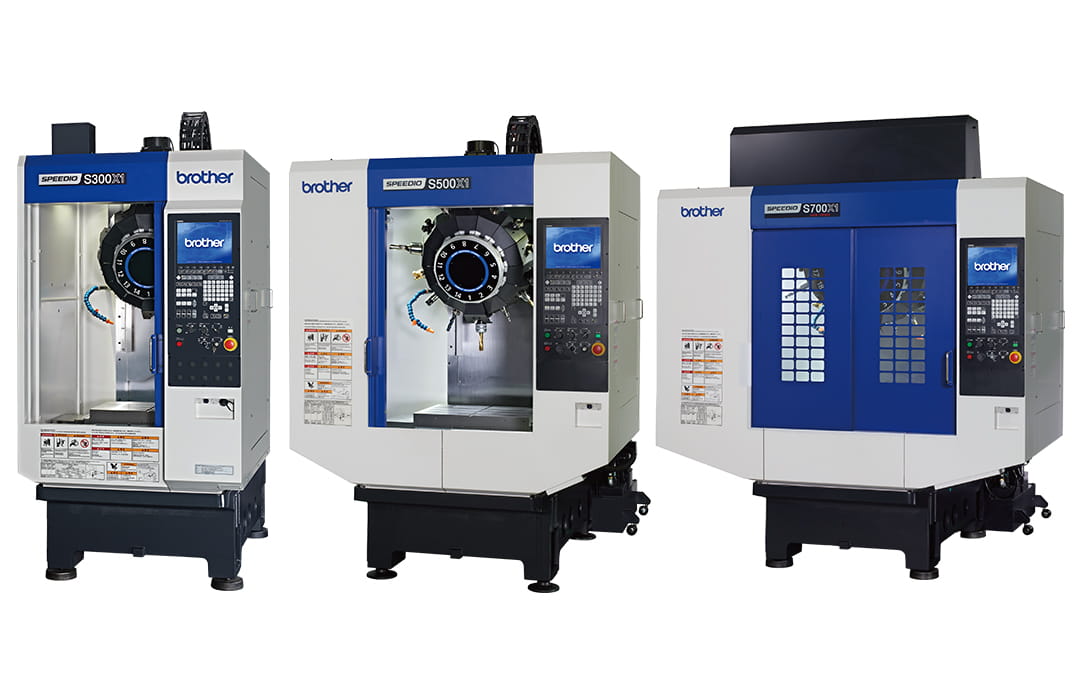 The SPEEDIO maximizes productive efficiency improvement of mass-production parts such as automobile, motorcycle and information technology.
The machine has achieved overwhelming high productivity as a result of achieving high acceleration and quick response. In particular, Z-axis acceleration has been greatly improved, which is highly effective for improvement of productivity.
Achievement of high acceleration
Highly-responsive servo motor
Brother's original NC unit thoroughly eliminates waste motion and waste time, and drives machine performance to the fullest to demonstrate high productivity.
Simultaneous operation control
Technologies accumulated over years to enhance machine rigidity, and use of a high-power spindle motor allow the machine to demonstrate its broad machining capabilities from high-speed, high-ef¬ciency machining to heavy-duty machining.
High-accuracy machining has been achieved by improving machine rigidity, renewing the control system using a new NC unit, and adding new functions. Stable accuracy for circular machining and three-dimensional machining has also been achieved.
High-speed three-dimensional machining
High-speed and highly accurate three-dimensional machining has been achieved by high-speed spindle specifications and Brother's original three-dimensional machining control, such as the 200-block look-ahead function and smooth path offset function.
The machine is equipped with the CNC-C00 series next generation NC unit with greatly improved processing capabilities and functions, and enhanced usability.
Operability
Equipped with 'shortcut' keys to quickly open the desired screen and 'sub folder' to make program management easier, in addition to the USB memory interface, menu programming and tap return function.
Network function
High capacity program data can be transferred via Ethernet at high speed. The simple production monitoring function is also available allowing you to monitor the machine's status.
Machining support functions
Equipped with machining support functions, such as torque waveform display,high accuracy mode, and heat expansion compensation system.
Maintenance functions
Equipped with motor insulation resistance measurement, operationlog, and maintenance notice function.
System capacity
Standard equipped with PLC. Input and output points can be extended to up to 1024 points each (Optional).
Customer Success
Introduction of Customer Success Stories.
Customer considering purchase / Support Information
Machine Tools lineup
Compact machining center SPEEDIO
Multi-Tasking Machine SPEEDIO