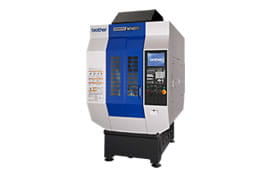 The best for process concentration of mass-production part processing. The compact multi-tasking machines to which the lathe-turning function was added.

We ended sale of this product.
The information on the telephone about repair or maintenance of product should have a look "Distributors" page.
Product points
Specifications
item
M140X1

Max. spindle speed
10,000min-1
16,000min-1 (Optional)
Max. turning spindle speed
2,000min-1
Travels
X:200mm Y:440mm Z:305mm
A:5~-95deg. C:360deg.
Tool storage capacity
22pcs.
Rapid traverse rate (XYZ-area)
50m/min ×50m/min ×50m/min
Indexing feedrate(AC-area)
A:60min-1 C:200min-1
Required floor space

1,280mm×3,641mm
Coolant Through Spindle(CTS)
Optional
Product movie
Machining example
For machining industries in Automotive parts, Motor cycle parts, Information Technology parts.
Customer Success
Introduction of Customer Success Stories.
Customer considering purchase / Support Information
Machine Tools lineup
Compact machining center SPEEDIO
Multi-Tasking Machine SPEEDIO