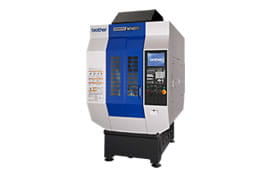 The best for process concentration of mass-production part processing. The compact multi-tasking machines to which the lathe-turning function was added.

We ended sale of this product.
The information on the telephone about repair or maintenance of product should have a look "Distributors" page.
Innovative Machine That Incorporates Turning
Newly developed ATC magazine
High-performance built-in DD motor
Effects of Mass Production Type Multi-Tasking Machine
Process integration in one machine
Productivity and Machining Capabilities
Fast acceleration/deceleration spindle
High-speed tool change (nonstop ATC)
Turning capabilities
The machine provides excellent turning capabilities due to the high-output turning spindle and the double plunger lock for the turning tool. The time taken for the turning spindle to reach the maximum speed of 2,000 min-1 is 0.3 seconds or less, leading to reduction in machining time.
Pursuit of visibility and accessibility
Advanced usability
The machine is equipped with the new CNC-C00 controller, greatly improving processing capabilities and enhancing functions and usability.
Operability
Equipped with 'shortcut' keys to quickly open the desired screen and 'sub folder' to make program management easier, in addition to the USB memory interface, menu programming and tap return function.
Network function
High capacity program data can be transferred via Ethernet at high speed. The simple production monitoring function is also available allowing you to monitor the machine's status.
Machining support functions
Equipped with machining support functions, such as torque waveform display,high accuracy mode, and heat expansion compensation system.
Maintenance functions
Equipped with motor insulation resistance measurement, operation log, and maintenance notice function.
System capacity
Standard equipped with PLC. Input and output points can be extended to up to 1024 points each ( Optional ).
Customer Success
Introduction of Customer Success Stories.
Customer considering purchase / Support Information
Machine Tools lineup
Compact machining center SPEEDIO
Multi-Tasking Machine SPEEDIO