CNC Tapping Center
TC-31AN
Highly productive column traverse machine with high-end functions and a two-face table for high-speed and high-quality machining
We ended sale of this product.
The information on the telephone about repair or maintenance of product should have a look here.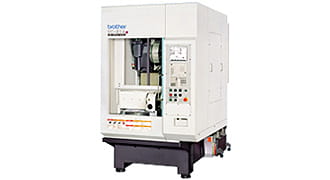 Product points
Newly-developed ATC mechanism
Advanced Design "Quick Table"
Additional axis Control
Index table can be mounted separately on each face of the pallet.
Two programming methods: Conversation and NC language
In addition to the conventionally popular conversation type programming format, the NC language programming format is available. The selector switch enables switching these programs.
Specifications
item
TC-31AN
Max. spindle speed
16,000min‒1
22,000min‒1
Travels
X:350mm Y:250mm Z:350mm
Tool storage capacity
18pcs.(+1)/26pcs.(+1)
Rapid traverse rate (XYZ-area)
50m/min×50m/min×50m/min
Required floor space
1,410mm×2,903mm
Customer considering purchase / Support Information